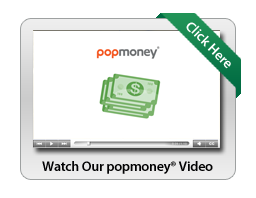 Popmoney® is a convenient, secure way to send and receive money online. And it's as easy as sending a text message!
Online Banking with Richwood Bank is required. Don't have online banking? Call us to sign up!

With Popmoney® you can:
Send mobile and email payments directly from your Richwood accounts.
Send mobile and email requests for payments to your Richwood accounts.
Deposit money into your Richwood accounts.
Free yourself from the hassle of check writing and bank visits.
How does Popmoney® work?
SENDING MONEY
Log in to your Richwood Online Banking account and select "Bill Payments" and then "Popmoney®". Send money to anyone by choosing one of these three methods: their email, text message to their mobile number, or directly to their account with their bank info.
The recipient will be notified by email or text.
Recipients complete the deposit of money via one of these methods (in order of preference): Richwood Online Banking, another online banking site that supports Popmoney®, or Popmoney.com.
If it is the recipient's first time receiving a Popmoney® payment via either email or text, they will likely need to enable that payment method by entering a verification code sent by Popmoney®. If the recipient is using the Popmoney.com site, they will need to enter their bank information the first time as well. Once this is done, they can easily receive payment.
REQUESTING MONEY
Tell us who you want to collect from and how much. The person or group doesn't need to have an existing Popmoney® account. All you need is their email or mobile number.
The recipient(s) will be notified by email or text. We can even send a reminder if they forget.
Recipients can make the payment with just a few clicks.
The money goes into your account automatically. You'll get the money in your Richwood Bank account and a notification that your request has been paid.
*There is a $0.50 fee for all initiated Popmoney® transfers by Richwood customers. There is a $0.75 fee for all Popmoney® payment requests by Richwood customers.There is a $0.95 fee for all initiated Popmoney® transfers by non-Richwood customers. You may make no more than six transfers and withdrawals (including Popmoney® from your Richwood Kasasa Saver, Diamond, and/or Investment account during any statement cycle. See section Terms of Use for (Popmoney Personal Payments Service) of the Terms and Conditions of Bill Payment for all service features. If the sender has selected Next Day or Express delivery then the recipient will receive the funds one business day after accepting the payment. In some cases, the funds may not be available until three business days. Transfers must be initiated before 2:00 pm eastern time to be considered initiated on that business day. Limits have been created on how much money and how many payments can be sent during various time periods. You can click the help icon next to the Amounts field to view your available limits.